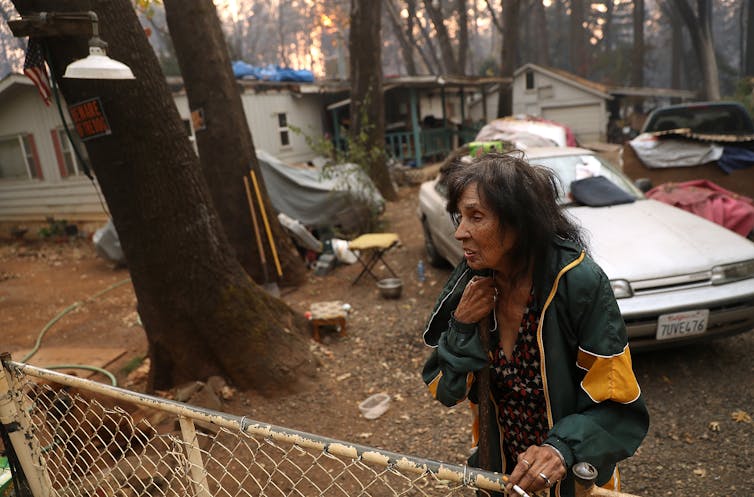 As wildfires burn across the Western U.S., the people in harm's way are increasingly those least able to protect their homes from fire risks, evacuate safely or recover after a fire.
In a new study, we and a team of fellow wildfire scientists examined who lived within the perimeters of wildfires over the past two decades in Washington, Oregon and California – home to about 90% of Americans in the U.S. West exposed to wildfires over that period.
Overall, nearly half a million people in California, Oregon and Washington were exposed to wildfires at some point during the past 22 years. Alarmingly, about half the people exposed to wildfires in Washington and Oregon were considered socially vulnerable.
While the number of people exposed to fire rose overall, the number of socially vulnerable people exposed more than tripled between the first and second decades.
How social vulnerability affects fire risk
A variety of factors shape social vulnerability, including wealth, race, age, disability and fluency in the local language.
These factors can make it harder to take steps to protect homes from wildfire damage, evacuate safely and recover after a disaster. For example, low-income residents often can't afford adequate insurance coverage that could help them rebuild their homes after a fire. And residents who don't speak English may not hear about evacuation orders or know how to get assistance after a disaster.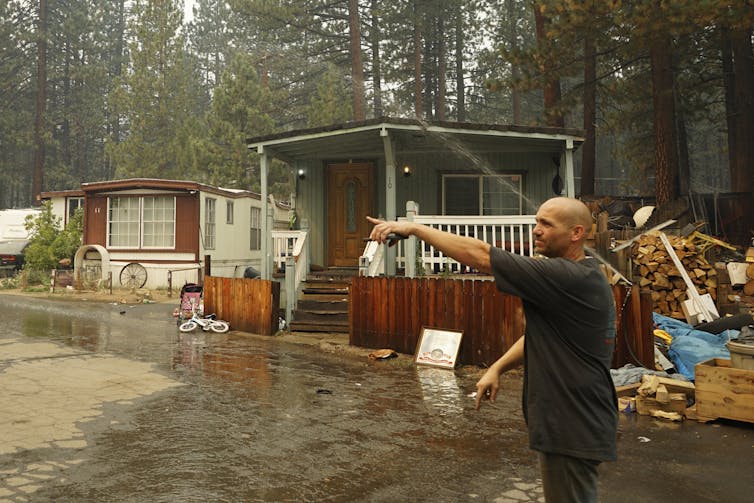 Older adults face rising fire exposure
We found that older adults in particular were disproportionately exposed to wildfires in all three states.
Physical difficulties and cognitive decline can hamper older adults' ability to keep their properties clear of flammable materials, such as dry shrubs and grasses, and can slow their ability to evacuate in an emergency. The fire that destroyed the town of Paradise, California, in 2018 was a tragic example. Of the 85 victims, 68 were 65 years of age or older.
Poverty was another important factor in the exposure of people with high vulnerability to wildfires in Oregon and Washington.
The reasons that socially vulnerable people were increasingly exposed to wildfires varied by state.
In California, the rise was in large part due to socially vulnerable people moving into wildfire-affected areas, possibly in search of more affordable housing, among other factors.
In Oregon and Washington, however, wildfires have increasingly encroached on existing vulnerable communities over the past decade, mainly in rural areas. This is predominantly due to increasing trends of intense, destructive fires.
Nearly 17,000 people living within the perimeter of wildfires in Oregon and Washington over the past decade had high social vulnerability, based on data from the Centers for Disease Control and Prevention. A smaller percentage of California's exposed population from 2011-2021 was considered to have high social vulnerability, 11%, but that was still 26,100 people.
Secondary impacts of wildfires
Our definition of exposure to wildfire considered only those people who directly lived within a wildfire perimeter.
If you take into account secondary exposures – those living close to wildfire perimeters and likely experiencing evacuation, trauma and poor air quality – the number of people affected is many times larger.
Importantly, other hazards related to wildfires reach still more high-vulnerability communities. Wildfire smoke, for example, has frequently filled large metropolitan areas with unhealthy air in recent years, disproportionately affecting people who work outdoors and other vulnerable populations.
Policy changes that can help
To prepare and respond as wildfire risk rises in a warming world, knowledge of the local population's social vulnerabilities is necessary, along with targeted community-based strategies.
For example, the exposure of populations with limited English-language skills highlights the need for disaster warnings and response resources in multiple languages.
While the federal government increased its investment for reducing wildfire threats to at-risk communities, including tribes, funding availability does not currently meet the demand.
Increasing exposure of certain populations, such as those living in nursing homes, requires significant investment to plan for and ensure proper and timely responses. When a wildfire in August 2023 burned more than 200 homes near Medical Lake, Washington, southwest of Spokane, it came close to a state-operated psychiatric hospital and a residential home for people with intellectual disabilities.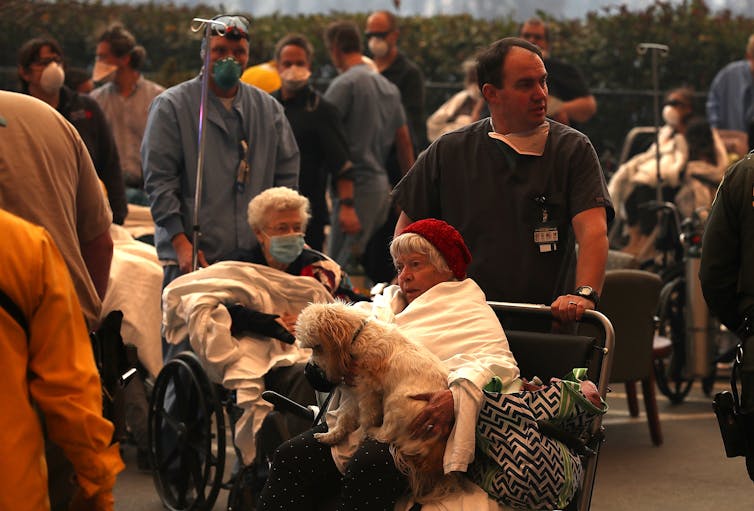 Finally, including social vulnerability when studying future wildfire trends is important to shape community responses and policies.
Many national disaster prevention programs skew funding toward wealthier communities because they use cost-benefit analyses to direct resources to areas with the greatest potential losses. But while wealthy residents may lose more in dollar value, low-income residents typically lose a larger percentage of their assets and have a harder time recovering. With the rising percentage of people with high social vulnerability at risk of wildfires, governments may need to rethink those methods and lower the barriers for aid.

Mojtaba Sadegh, Associate Professor of Civil Engineering, Boise State University and John Abatzoglou, Professor of Engineering, University of California, Merced
This article is republished from The Conversation under a Creative Commons license. Read the original article.